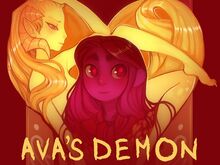 Ava's Demon is an ongoing multimedia science fiction and fantasy webcomic written and drawn solely by Michelle Czajkowski.
The comic follows Ava Ire, a young girl tormented by a demon who seems to be determined to ruin her life. However, the demon has much more history than Ava thinks. The story follows Ava as she makes her way across the universe, teaming up with the demon haunting her on a quest for revenge, while fighting her own inner demons along the way.
The webcomic began in May 2012 and is ongoing. The entirety of the comic can be found at avasdemon.com
History
Ava's Demon was conceived by Michelle Czajkowski when she was 13 and suffering from depression. It took about eight years for the story to be completed[1]. It is already a finished story, complete with an ending. Czajkowski began to draw the final draft of the comic in 2012, posting it online. The very first panel was posted on Avasdemon.com on May 31, 2012 [2].
At first, the comic only updated on Thursdays. However, on May 31st, 2013, the Kickstarter for the publishing of Book One was launched[3]. The Kickstarter was fully funded with a grand total of $217,036 and over 3,700 backers[4]. It was so successful that Czajkowski was able to make Ava's Demon her full time job, updating to this day on Mondays and Thursdays.
On January 15, 2015, a second Kickstarter was launched for the publishing of Book Two, along with an animation done by Studio Yotta[5]. This kickstarter was also incredibly successful, with $351,076 donated and over 3,700 backers[6].
The comic is currently on a hiatus with no aforementioned ending, for the author's own personal reasons[7]. In a recent update, Czajkowski said that the comic would resume on January 2016. However, as of July 2016, that didn't actually happen. 
Summary
Although the comic is still in production, it has amassed seventeen chapters so far and is still going strong. A quote from Michelle Czajkowski herself:
"Ava's Demon is my ongoing science fiction and fantasy, multimedia webcomic about a girl named Ava and the demon haunting her. Well…ok…it's a bit more complicated than that. The demon might just be the ghost of an alien queen, Wrathia, seeking revenge on the one that destroyed her empire, a god-like figure named Titan. The story follows Ava as she makes her way across the universe, teaming up with the demon haunting her on a quest for revenge, while fighting her own inner demons along the way."[8]
Production Process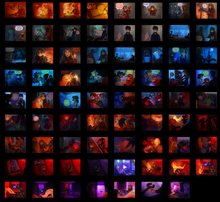 Ava's Demon updates on Mondays and Thursdays, with the author working on panels all through the week. The average expected size for an update is around ten panels[9].
According to Czajkowski, a typical panel starts out with a sketch, and sometimes a rough background. The line art is defined until it can be colored under, and then merged with a painting layer while keeping the characters separate from the background. When finished with coloring, small details are added[10]. It is the author's goal to make the entire comic look like a color script for a film[11].
Czajkowski has stated more than once that she uses a Cintiq tablet, and Photoshop[12][13]. Her favorite brush to use is the default Photoshop brush, and then she airbrushes the majority of her colors. Czajkowski has stated that color theory comes to her naturally, and she does not use color pallets.
At the end of several chapters there is a brief animation with music.
List of Chapters
References
External Links
Ad blocker interference detected!
Wikia is a free-to-use site that makes money from advertising. We have a modified experience for viewers using ad blockers

Wikia is not accessible if you've made further modifications. Remove the custom ad blocker rule(s) and the page will load as expected.