Welcome to the Ava's Demon Wiki, a collaborative encyclopedia for the webcomic Ava's Demon by Michelle Czajkowski. The wiki is free for anyone to edit!
The wiki has 99 articles since October 2012.
---
June Featured Article - Chapter Two: Impact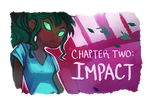 Chapter Two: Impact is the second chapter of Ava's Demon. This chapter follows the interactions of Ava, her demon, Odin and Maggie in the spaceship after the destruction of Ava's School Planet.
The chapter has 80 pages and, unlike its predecessor and successor, there is no animation. Maggie Lacivi is featured on the cover.
Main article: Chapter Two
June
Silas has been hired as Ava's Demon first Official colorist. You find him on his Tumblr page
Ad blocker interference detected!
Wikia is a free-to-use site that makes money from advertising. We have a modified experience for viewers using ad blockers

Wikia is not accessible if you've made further modifications. Remove the custom ad blocker rule(s) and the page will load as expected.