Chapter Two: Impact[1] is the second chapter of Ava's Demon. This chapter follows the interactions of Ava, her demon, Odin and Maggie in the spaceship after the destruction of Ava's School Planet.
The chapter has 80 pages and, unlike its predecessor and successor, there is no animation. Maggie Lacivi is featured on the cover.
Plot
Following the destruction of Ava's School Planet[2], the girl cries as the demon teases her, saying that the planet was terrible anyway and she should be happy it was destroyed. Suddenly, the gravity is turned on, and Ava falls to the ground. The demon notices a door and goes through it, leaving Ava to follow. While walking down the corridor, she sees a wrench and picks it up. Finally finding the demon, she is frightened by seeing the mysterious boy analyzing Maggie Lacivi. Ava comes to the decision to knock the boy out with the wrench. However, he realizes the girl's presence and her intentions, pointing his gun at her in his defense. He tries to warn Ava to put her weapon down, but he is unable to say "wrench." When Ava tries to help him with the word, he thinks she is mocking him, and again tries to intimidate her. Ava puts the wrench down, but is possessed by the demon, who insults the boy. This leads Ava to be tied up.
The stranger explains to Ava that he plans to abandon her at the next planet. Ava tries to argue about it and the boy tapes her mouth shut. When he leaves the room, Maggie finally wakes up with a headache. she notices Ava tied up at her side. As the boy comes back, Maggie pretends to sleep. However, as the boy is distracted, talking about how the next planet has an ecosystem, Maggie uses her strange abilities to turn her arm into vines and traps the boy.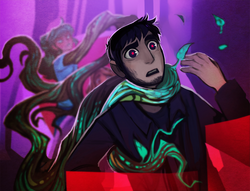 Maggie successfully captures the "creep" and starts to interrogate him, ordering him to take her back to the school planet. The boy then explains that there's nothing to come back because Silent Scavengers destroyed their planet. He knew this ahead of time because his brother warned him, and he saved her because he really liked her. Maggie asks his name. The stranger reveals that his name is Odin. Angered, Maggie throws him at the spaceship and mocks him, saying he is not her type. As Maggie tries to intimidate him, Odin says that he isn't an idiot and he knows she won't kill the pilot. However, he calls her a true monster, to which Maggie destroys the control panel. Odin argues that she should release him and let him land the ship, but Maggie assures him that she knows for a fact that she will survive. The ship is sent crashing into a planet full of green-eyed monsters and butterflies.
At the planet, at the bottom of a TITAN statue, Nevy asks a boy named Gil what he is praying for this time. He answers that he is asking for good luck in the test he will take the next day. He wishes to be a doctor in TITAN's army and must pass to make that happen. The blue-haired demon asks the boy about TITAN and starts to talk about her plans to go to Paradise. She reminds Gil to ask TITAN about her past, and Gil promises her they will ask everything. After they depart, the spaceship finally crashes into the planet's soil. Ava is thrown out of the ship and impaled by the statue's sword. The demon watches gleefully, asking if she'll finally die and wishing her good riddance.[3]
Transcript
[
Ava
is floating in the ship with an oxygen mask on ]
[ She is crying ]
[ Wrathia floats next to her ]
Wrathia: Seriously? You're crying?! Those better be tears of joy because that was a terrible planet.
[ Gravity is in effect again and Ava falls down ]
Wrathia: Eehehe... Nothing like gravity to knock the sad out of you, huh?
[ Ava holds her head in pain ]
[ Wrathia notices a door and passes underneath it ]
[ Ava opens the door and move through the hallway ]
[ She picks up a wrench on the table nearby ]
[ Wrathia is floating behind Odin and the unconscious body of Maggie is at the end of the hallway ]
[ Odin is checking Maggie's vitals on a panel ]
[ Ava tries to sneak up on Odin and hit him in the head but can't bring herself to do so ]
[ Odin notices Ava and point a gun at her ]
Odin: P-p-put down the wr....wr...wre-... Wr-...wr-...wr-wren....
[ Ava interrupts him ]
Ava: ......Wrench?
Odin: You th-think I'm k-kidding, d-d-don't you!?
[ Ava drops the wrench ]
Ava: No!! Look! I drop it, see?
[ Wrathia assumes controls of Ava ]
Wrathia: You wouldn't have shot me anyway, you stuttering coward... I can see fear in your eyes.
[ Ava is tied up off page, she is sitting on a chair, in tears. Wrathia floats beside her. ]
[ Odin is working on the the panels of the ship. ]
Ava: I'm sorry!! I didn't mean it!! Please!! Let me stay here on the ship!
Odin: I'll dr-drop you off at the next p-planet... th-th-then I'm going home.
Ava: But what if the planet's deserted?! You're just gonna leave us there?!
[ Odin gets a roll of duct tape and seals off Ava's mouth ]
Odin: N-not "us"... Just "you"
[ Odin leaves the room ]
[ Maggie wakes up with a headache ]
Maggie: UHG My head!
[ Maggie notices the tied up Ava ]
Maggie: ?????
Ava: MMMPH!!!
[ Odin returns to the room ]
Odin: L-looks like the next planet we pass has an ecosystem
[ Maggie pretends to be asleep, Odin walks pass without a doubt ]
[ Wrathia whispers to Ava ]
Wrathia: I really can't wait to watch you waste away on some awful moon...
[ Ava notices Maggie sneaking her vines towards Odin ]
[ Maggie looks at Ava, making a "shush" sign ]
[ The vine reaches to Odin and get a hold of him ]
Maggie: Okay creep... Who are you? And why are we in space?! Is this some kind of sick joke? You're gonna turn this ship around, got it?
Odin: Th..there's n-nothing to go b-bback to... ye..your planet was destroyed b-by silent sc-sc-scavengers... My brother called earlier to warned me... There wasn't much time... So I saved you because I... really like you... I figure you could live on my home planet...
Maggie: Home planet? Were you a transfer student or something? What's your name, anyway?
Odin: ...O-...Odin
Maggie: Odin?...
[ Maggie slams Odin into the ship's chair ]
Maggie: You're... not my type...
[ Maggie threatens the tied up Odin ]
Maggie: Now... if you really like me, you'll tell me how to land this ship, Odin, or I'll-
Odin: O-Or you'll what? Y-you'll k-kill the pilot? I'm not s-some fool that just c-caves in for a crush. N-Now it's clear why you were always r-rejected... Y-you're a r-real monster, Maggie.
[ Maggie smashes the ship's panels out of anger ]
[ Ship's display: ACCIDENT DETECTED EMERGENCY SYSTEM SHUT DOWN ]
[ Ship's display: ALL SYSTEMS SHUTTING DOWN EMPTYING FUEL TANKS TO AVOID FIRES ]
Odin: Wh-Wha-...WHAT HAVE YOU DONE?! AH-ARENT WE IN THE ORBIT OF THE PLANET!? MAGGIE!? L-LET ME OUT SO I CAN LAND US! ARE YOU LISTENING?!
Maggie: Apologize to me... and I'll consider unbinding you.
Odin: D-DONT YOU TH-THINK THERE ARE M-M-MORE PRESSING MATTERS AT THE MOMENT?! LIKE THE FACT THE W-WE'RE G-GOING TO C-C-CRASH IF YOU D-D-DON'T FREE ME?!
Maggie: Oh...I know for a fact that the crash won't kill me... So... have fun in the afterlife... jerks
[ The ship burns through the atmosphere ]
[ Somewhere on the planet, Gil is praying at a statue of TITAN with Nevy besides him ]
Nevy: Praying again, Gil?
Gil: Oh! Hey! I didn't see you there, Nevy.
Nevy: What are you praying for this time?
Gil: Oh! For good luck! I've completed my training and tomorrow I'll find out if I qualify to be a doctor in TITAN's Army.
Nevy: TITAN is the "all-knowing" one you talk about... right, Gil?
Gil: Ah...yes.
Nevy: So if they recruit you... We can ask TITAN about my past! And how I died! Right? TITAN will know those things?
[ They walked back into the house ]
Gil: That's the plan
Nevy: Promise me we'll ask TITAN?
Gil: Nevy, I PROMISE.
[ The ship crashes on the trees of the forrest ]
[ Ava flies out of the ship's and get impaled by the statue of TITAN ]
[ Wrathia floats next to the impaled body of Ava ]
Wrathia: So... The day is finally here? Good riddance, you little brat
[ Transition to Chapter 3 ]
Main Characters
Gallery
References
↑

Ava's Demon - Archive

↑

Ava's Demon - Chapter One

↑

Ava's Demon - Chapter Two
Ad blocker interference detected!
Wikia is a free-to-use site that makes money from advertising. We have a modified experience for viewers using ad blockers

Wikia is not accessible if you've made further modifications. Remove the custom ad blocker rule(s) and the page will load as expected.